PENGHASILAN STOK ASAS BIOLUBRIKAN BERASASKAN TRIMETILOLPROPANA, ASID 2,2-BIS(HIDROKSIMETIL) PROPIONIK DAN ASID OLEIK SEBAGAI BAHAN PELINCIRAN HIPERCABANG
biolubrikan; pengesteran; trimetilolpropana; asid oleik
Azira Abdul Razak

Jumat Salimon

Darfizzi Derawi
Abstract
Abstrak
Dalam kajian ini, biolubrikan hipercabang berasaskan ester sintetik dihasilkan melalui tindak balas pengesteran dengan kehadiran pemangkin asid sulfurik. Trimetilolpropana (TMP) telah dilakukan tindak balas dengan asid 2,2-bis(hidroksimetil)propionik untuk menghasilkan trimetilolpropana tri-2,2-bis(hidroksimetil)propionat (TMPTP) dan diikuti tindak balas dengan asid oleik untuk menghasilkan trimetilolpropana tri-2,2-bis(hidroksimetil)propionat heksaoleat (TMPTPHO). Tindak balas pengesteran dijalankan pada suhu 140°C selama 5jam dengan nisbah mol 1:3.5 dan 1:6.5 dengan kehadiran 2 %wt pemangkin asid sulfurik. Hasil TMPTP dan TMPTPHO dianalisis dengan menggunakan spektroskopi inframerah (FTIR) dan spektroskopi resonans magnetik nukleus proton dan karbon (1H dan 13C NMR) bagi menentukan struktur molekulnya. Analisis spektrum FTIR dan NMR membuktikan bahawa kedua-dua tindak balas pengesteran telah berjaya dilakukan. Hasil TMPTPHO juga didapati mempunyai indeks kelikatan 138, takat tuang -20°C dan takat kilat 270°C. Produk sintetik biolubrikan yang terhasil boleh digunakan sebagai bahan pelinciran untuk mesin.
Kata Kunci: biolubrikan; pengesteran; trimetilolpropana; asid oleik
Abstract
In this study, synthetic esters based hyperbranched biolubricant produced through an esterification reaction with the presence of a sulfuric acid catalyst. Trimethylolpropane (TMP) reacted with propionic 2,2-bis (hydroxymethyl) acid to produce tri-2,2-bis (hydroxymethyl) propionate (TMPTP) trimethylolpropane (TMPTP), afterward reacted with oleic acid to produce trimethylolpropane tri-2, 2-bis (hydroxymethyl) propionate hexaoleate (TMPTPHO). The reaction was carried out at 140 ° C for 5 h with a mol ratio of 1:3.5 and 1:6.5 in the presence of 2 %wt sulfuric acid catalyst. The results of TMPTP and TMPTPHO were analyzed using infrared spectroscopy (FTIR) and proton and carbon nuclear magnetic resonance spectroscopy (1H and 13C NMR) to confirm their molecular structure. All IR, proton and carbon spectrum proved the final product successfully synthesized and characterized. TMPTPHO results found to have a viscosity index of 138, a pour point of -20 ° C and a flashpoint of 270 ° C. The resulting synthetic biolubricant has the potential to be used used as machining lubricant.
Keywords: biolubricant; esterification; trimethylolpropane; oleic acid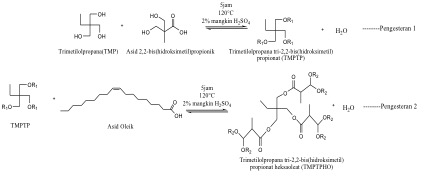 COPYRIGHT
It is the author's responsibility to ensure that his or her submitted work does not infringe any existing copyright. Authors should obtain permission to reproduce or adapt copyrighted material and provide evidence of approval upon submitting the final version of a manuscript.