PENGHASILAN STOK ASAS BIOLUBRIKAN BERASASKAN ASID LEMAK TAK TEPU DARIPADA ASID LEMAK SAWIT TERSULING
biolubrikan; asid lemak sawit tersuling; asid lemak tak tepu; ester TMP; trimetilolpropana
Najihah Abdul Bar

Darfizzi Derawi
Abstract
Abstrak
Ester TMP berasaskan asid lemak tak tepu PFAD dan trimetilolpropana (TMP) sebagai stok asas biolubrikan telah disintesis melalui pengesteran Fischer menggunakan asid sulfurik sebagai mangkin. Bahan pelinciran sintetik dihasilkan secara optimum (79%) pada suhu tindak balas 150 °C selama 6 jam menggunakan 3% (w/w) pemangkin asid sulfurik dan 1: 3 mol (TMP: asid). Pembentukan ester TMP telah disahkan menggunakan kromatografi gas (GC-FID), Spektrum transformasi Fourier inframerah (FTIR) dan Resonans Magnetik Nuklear (1H NMR dan 13C NMR). Ujian sifat pelinciran telah dijalankan ke atas ester TMP. Produk biolubrikan telah mencatatkan kelikatan kinematik pada 40°C dan 100 °C iaitu masing-masing pada 19.53 cSt dan 4.80 cSt, indeks kelikatan pada 169, takat tuang pada -30°C, takat kilat dan api pada suhu melebihi 350°C. Biolubrikan yang dihasilkan juga menunjukkan kestabilan oksidatif yang baik di mana suhu permulaan adalah 173 °C. Gred lubrikan yang dihasilkan diklasifikasikan sebagai ISO VG 22. 
Kata Kunci: biolubrikan; asid lemak sawit tersuling; asid lemak tak tepu; ester TMP; trimetilolpropana
Abstract
TMP esters based biolubricant basestock was synthesised from unsaturated fatty acids of palm fatty acid distillate (PFAD) by Fischer esterification using a sulfuric acid catalyst. Synthetic lubricants were optimized (79%) at a reaction temperature of 150°C for 6 hours using 3% (w/w) sulfuric acid catalyst and 1: 3 mol (TMP: acid). TMP ester formation was confirmed using gas chromatography (GC-FID), infrared spectroscopy (FTIR), and nuclear magnetic resonance (1H NMR and 13C NMR). Lubrication properties have been analyzed. Biolubricant product recorded kinematic viscosity at of 19.53 cSt (40ºC) and 4.80 cSt (100 ºC), viscosity index of 169, pouring temperature of -30°C, flash point and flame at temperatures more than 350°C. The resulting biolubricant showed moderate oxidative stability at 173 ° C. It has been classified as ISO VG 22 grade lubricant.
Keywords: biolubricant; palm fatty acid distillate; unsaturated fatty acid; TMP esters; trimethylolpropane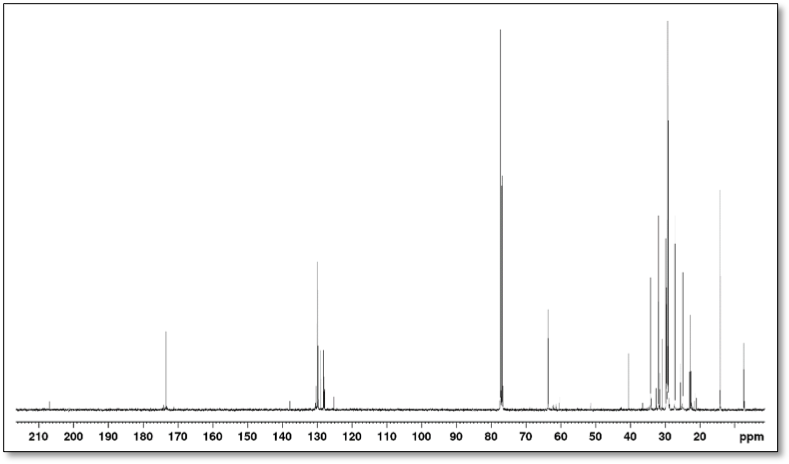 COPYRIGHT
It is the author's responsibility to ensure that his or her submitted work does not infringe any existing copyright. Authors should obtain permission to reproduce or adapt copyrighted material and provide evidence of approval upon submitting the final version of a manuscript.