The Malaysian Journal of Psychology is an international peer-reviewed journal that covers various fields of psychology, such as cognition, social psychology, developmental psychology, counselling, education, and industrial and organizational psychology. The journal publishes original works based on standards of excellence and expert reviews. The journal is issued three times a year, in May, August and December. Manuscripts are published in both Malay or English.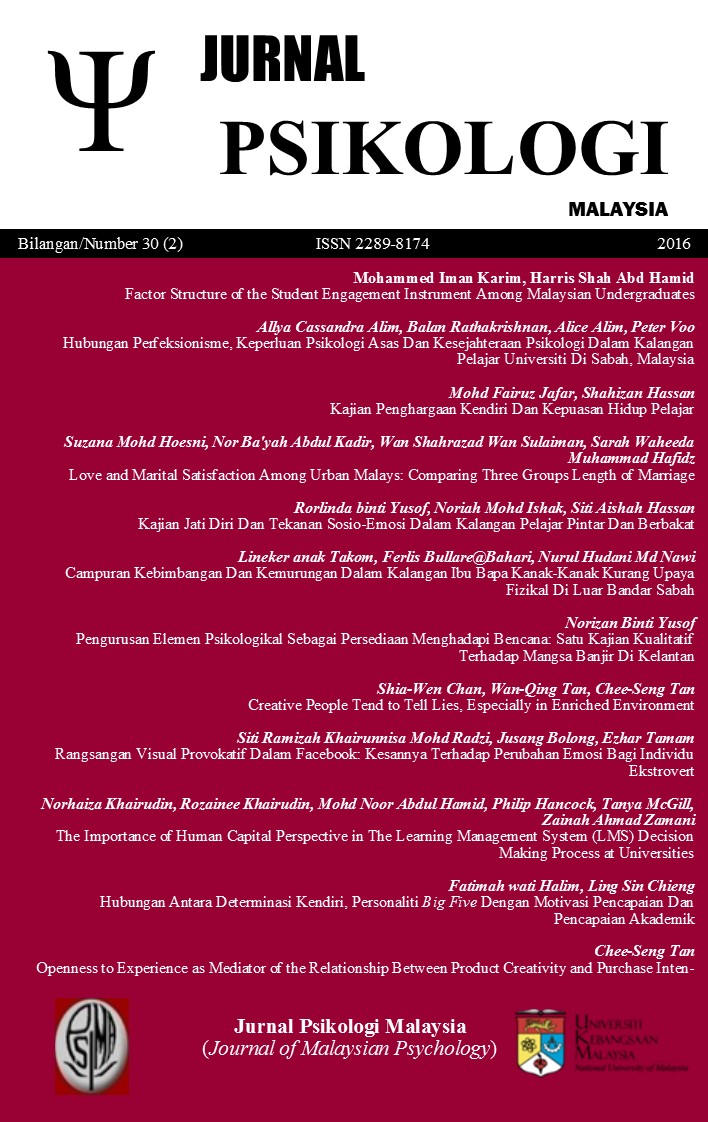 Announcements
CALL FOR SUBMISSIONS 2019

Jurnal Psikologi Malaysia is currently accepting submissions for its upcoming issues to be published in 2019. We are currently publishing three times a year.
Posted: 2018-11-21
More...
Vol 32, No 3 (2018): ISU KHAS: KESEJAHTERAAN DALAM PEMBANGUNAN MASYARAKAT DI MALAYSIA
Table of Contents
Articles
| | | |
| --- | --- | --- |
| | Mohammad Izzat Akmal Shariff Shariff, Wan Shahrazad Wan Sulaiman | |
| | | |
| --- | --- | --- |
| | Siti Zuliana Md Zuki, Siti Fardaniah Abdul Aziz | |
| | | |
| --- | --- | --- |
| | Najwa Afiqa Roshaizad, Aizan Sofia Amin, Haikal Anuar Adnan | |
| | | |
| --- | --- | --- |
| | Nor Azzatunnisak Mohd Khatib, Ab Rahman Roseliza-Murni, Suzana Mohd Hoesni, Jamiah Manap | |
| | | |
| --- | --- | --- |
| | Nor Jana Saim, Suini Lejem, Fatimah Abdullah, Noremy Md Akhid | |
| | | |
| --- | --- | --- |
| | Nur Diyanah Hidayat, Siti Marziah Zakaria | |
| | | |
| --- | --- | --- |
| | Hilwa Abdullah @ Mohd. Nor, Jing Giong Lee | |
| | | |
| --- | --- | --- |
| | Sarin Johani, Khadijah Alavi, Mohd Suhaimi Mohamad | |
| | | |
| --- | --- | --- |
| | Asmi Asmidar Zainal Rashid, Mohammad Rahim Kamaluddin, Suzaily Wahab, Dayang Anita Abdul Aziz, Zarina Abdul Latiff, Balan Rathakrishnan | |
| | | |
| --- | --- | --- |
| | Faizah Mat Isa, Rozmi Ismail, Norizan Hassan | |
| | | |
| --- | --- | --- |
| | Nor Azrul Mohd Zin, Noordeyana Tambi | |
| | | |
| --- | --- | --- |
| | Raja Nur Fakhriah Raja Zainal Badri, Aizan Sofia Amin | |
| | | |
| --- | --- | --- |
| | Nazirah Hassan, Daniella Mokhtar | |
| | | |
| --- | --- | --- |
| | Ahmad Khairuddin Mohd Ghazi, Haikal Anuar Adnan, Daniella Mokhtar, Najwa Afiqa Rohaizad, Nazuha Shamshuddin | |