The Malaysian Journal of Psychology (JPM) is a peer-reviewed journal that covers various fields of psychology with emphasis on Malaysia and neighbouring region. It covers areas such as cognition, social psychology, developmental psychology, counselling, education, and industrial and organizational psychology. JPM is co-owned by Universiti Kebangsaan Malaysia and Malaysian Psychological Association (PSIMA). It publishes original works based on standards of excellence and expert reviews.
We encourage submissions from researchers, academics, practitioners, and students in all of the various subfields of Psychology. We aim to provide a forum for debate and critical analysis of psychological, societal, and developmental issues. 
The journal is issued three times a year, in May, August and December. Manuscripts are published in both Malay or English.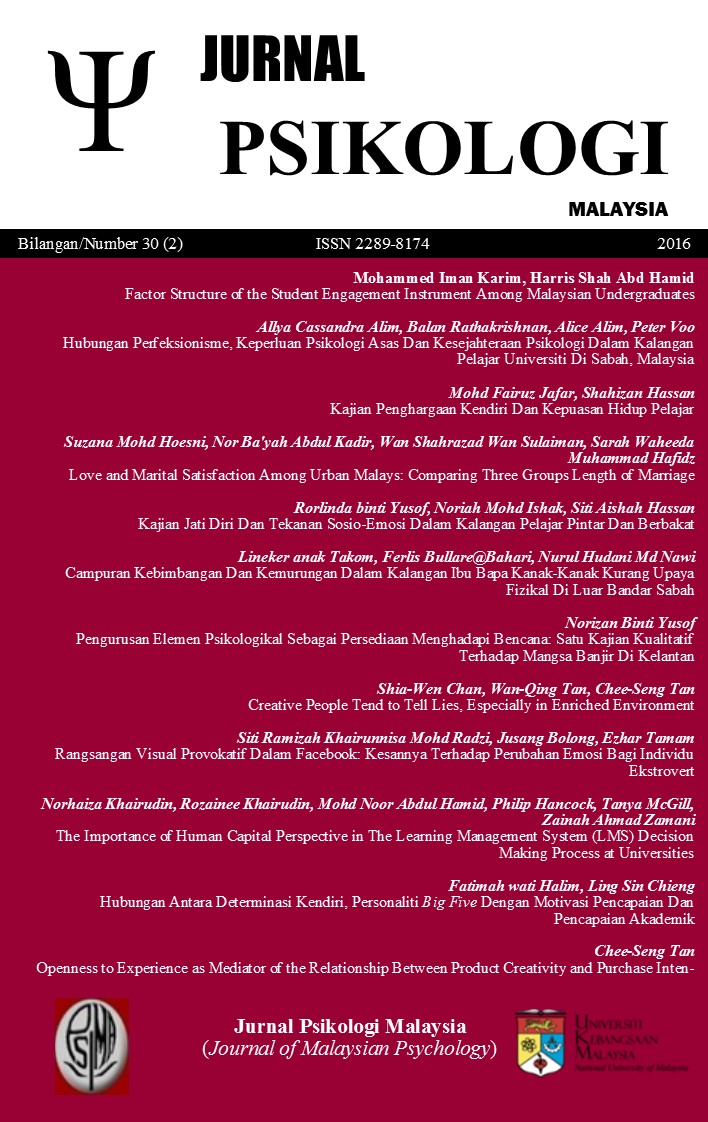 Announcements
CALL FOR SUBMISSIONS 2022

Jurnal Psikologi Malaysia is currently accepting submissions for its upcoming issues to be published in 2022. We are currently publishing three times a year. Issues and submission deadlines for 2022 are as follows:

Issue                                    Submission deadline

May 2022                              31 January 2022

August 2022                          30 April 2022

December 2022                     30 September 2022

JPM is a bilingual, peer-reviewed academic journal based at Faculty of Social Sciences and Humanities, UKM and Malaysian Pychological Association (PSIMA).  

We encourage submissions from researchers, academics, practitioners, and students in all of the various subfields of Psychology. We aim to provide a forum for debate and critical analysis of psychological, societal, and developmental issues.

We are aiming to be indexed in ESCI.

Please also take note, referring to our recent Council Meeting, it has been agreed and approved that successful submission will be charged a submission fee of RM200. This will be imposed starting with the May 2021 issue.

 

Thank you.

For further information, please contact Assoc. Prof Dr Rozainee Khairudin or Assoc. Prof Dr Fatimah wati Halim, Editor-in-Chief, at rozaineekhai@ukm.edu.my or atisha@ukm.edu.my. Past issues of JPM are available at our website (http://spaj.ukm.my/ppppm/index/jpm/index).

We look forward to receiving your submissions.  

Posted: 2022-02-18
Vol 36, No 1 (2022): JURNAL PSIKOLOGI MALAYSIA
Table of Contents
Articles
| | | |
| --- | --- | --- |
| | Wan Ainil Husna Salim, Azlina Abu Bakar | |
| | | |
| --- | --- | --- |
| | Nor Shela Saleh, Khairunesa Isa, Muhaymin Hakim Abdullah, Sarala @ Thulasi Palpanadan, Hazila Kadir @ Sahar | |
| | | |
| --- | --- | --- |
| | Vyshnavi P.Ramesh, Wu Shin Ling | |
| | | |
| --- | --- | --- |
| | Deanna Arissa Mohd Osman Giani, NurFarhana Ardillah Aftar | |
| | | |
| --- | --- | --- |
| | Joseph Nandu, Hasnol Noordin, Pathmanathan K Suppiah, Abdul Muiz Nor Azmi | |
| | | |
| --- | --- | --- |
| | Alisa Ai Ling Choo, Ching Sin Siau, Mimi Fitriana, Clarisse Roswini Kalaman, Sook Huey Lee | |
| | | |
| --- | --- | --- |
| | Ke Guek Nee, Zuhrah Beevi, Rozainee Khairudin, Edina Salem | |
| | | |
| --- | --- | --- |
| | Nurul Aini Mudayat, Rafidah Aga Mohd Jaladin, Norfaezah Md. Khalid | |
| | | |
| --- | --- | --- |
| | Endah Ayu Pamungkas, Kamsih Astuti, Reny Yuniasanti | |
| | | |
| --- | --- | --- |
| | Syazwina Muhammad Khir, Norashikin Mahmud, Nurul Hidayah Mohamad Farok | |
| | | |
| --- | --- | --- |
| | Puteri Hayati Megat Ahmad, Nurul Hudani Md Nawi, Suardi Sudi | |
| | | |
| --- | --- | --- |
| | Danilah Salleh, Norhaiza Khairudin, Marhaiza Ibrahim | |
| | | |
| --- | --- | --- |
| | Brendan Ch'ng, Mariani Md Nor, Loh Sau Cheong | |