KERESAHAN PELAJAR KETIKA MEMPELAJARI BAHASA ARAB
Nur Pratiwi -

Suhaila Zailani @ Hj. Ahmad

Jabatan Pengajian Arab dan Tamadun Islam, Fakulti Pengajian Islam, Unversiti Kebangsaan Malaysia
Abstract
Keresahan adalah merupakan fenomena emosi yang berlaku pada hampir setiap orang. Keresahan berlaku pada situasi dan keadaan tertentu. Mempelajari bahasa asing merupakan  salah satu keadaan yang dapat menyebabkan keresahan. Mereka yang mengalami keresahan dalam  pembelajaran bahasa akan menangguh-nangguhkan kerja rumah yang diberikan, menghindari aktiviti bertutur di dalam kelas, atau duduk diam di belakang. Justeru itu, artikel ini ditulis untuk membincangkan mengenai takrif keresahan secara umum dan takrif keresahan bahasa (language anxiety) secara khususnya. Artikel ini juga membincangkan tentang faktor yang menyumbang kepada keresahan dan juga kaedah yang digunakan bagi mengurangkan tahap keresahan yang dialami semasa proses pengajaran dan pembelajaran bahasa berlangsung. Hasil kajian mendapati bahawa antara faktor utama bagi keresahan bahasa ini adalah berkaitan dengan tahap keyakinan diri pelajar yang rendah. Di samping itu, faktor kaedah pengajaran, peperiksaan, dan aktiviti-aktiviti dalam kelas yang kurang efektif juga turut menyumbang kepada keresahan pelajar. Seterusnya, antara kaedah yang dapat digunakan bagi mengurangkan keresahan adalah pelajar sentiasa menanamkan sikap positif dan guru pula sentiasa peka terhadap keresahan yang dialami pelajar dan bersikap lebih mesra serta mempelbagaikan kaedah pengajaran.
Kata Kunci: Keresahan, Bahasa Asing, Bahasa Arab
References
al-Qur'an al-Karim.
Aida, Y. 1994. Examination of Horwitz, Horwitz, and Cope's Construct of Foreign Language Anxiety: The Case of Students of Japanese. The Modern Language Journal 78(2): 155-168.
Alghothani, D. 2010. Foreign Language Anxiety in an Intermediate Arabic Reading Course: A Comparison of Heritage and Foreign Language Learners. Doctoral Dissertatio. The Ohio State University.
Al-Shboul, M. M., Ahmad, I. S., Nordin, M. S., & Rahman, Z. A. 2013. Foreign Language Anxiety and Achievement: Systematic Review. International Journal of English Linguistics 3(2): 32.
al-Bacalbaki, Ruhi. 1997. Al-Mawrid, Qamus cArabi – Inklizi. Beirut: Dar al-cIlm li al-Malayin.
Bailey, P., Onwuegbuzie, A. J., & Daley, C. E. 1998. Anxiety About Foreign Language Among Students In French, Spanish, and German classes. Psychological Reports 82(3): 1007-1010.
Che Zarrina Sa'ari. 2001. Penyakit Gelisah (anxiety/al-haluca) dalam Masyarakat Islam dan Penyelesaiannya menurut Psiko-Spiritual Islam. Jurnal Usuludin. Bil.14. Bahagian Pengajian Usuluddin, Akademi Pengajian Islam, Universiti Malaya.
Darwin, C. R. 1872. The Expression of Emotion in Man and Animal. London: John Murray.
Dörnyei, Z. 2005. The Psychology of the Language Learner Individual Differences in Second Language Acquisition. Mahwah, NJ: Lawrence Erlbaum Associates.
Dubin, F., & Olshtain, E. 1977. Facilitating Language Learning: A Guidebook for the ESL/EFL Teacher. New York: McGraw-Hill.
Ehrman, M. E. 1996. Understanding Second Language Learning Difficulties. Thousand Oaks, CA: Sage Publication.
Elkhafaifi, H. 2005. Listening Comprehension and Anxiety In The Arabic Language Classroom. The Modern Language Journal 89(2): 206-220.
Ellis, R. 1994. The Study of second Language Acquisition. Oxford: Oxford University Press.
Farj Abdul Qadir Taha. 1993. Mawsucah cIlm al-Nafs wa al-Tahlil al-Nafsi. Kaherah: Su'ad al-Sabah.
Freud, S. 1920. A General Introduction to Psychoanalysis. New York: Boni & Liveright.
Hismanoglu, M. 2013. Foreign Language Anxiety of English Language Teacher Candidates: A Sample from Turkey. Procedia-Social and Behavioral Sciences 93: 930-937.
Horwitz E. K., Horwitz M. B., & Cope, J. 1986. Foreign Language Classroom Anxiety. The Modern Language Journal 70 (1): 125-132.
Ingram, F., Nord, J., & Dragt, D. 1975. A program for Listening Comprehension. Slavic and East European Journal. 1-10.
cIswa, Abdul Rahman Muhammad. 1970. Dirasat Saikulujiyyah. Iskandariah: Mansya'ah al-Nasyir al-Macarif.
Kitano, K. 2001. Anxiety in the College Japanese Language Classroom. The Modern Language Journal 85 (4): 549-566.
McCroskey, J. C. 1978. Validity of the PRCA as an Index of Oral Communication Apprehension. Communications Monographs 45(3): 192-203.
McCroskey, J. C. 1984. The Communication Apprehension Perspective. Dalam. J. A. Daly & J. C. McCroskey (pnyt.), Avoiding Communication: Shyness, Reticence, and Communication Apprehension, hlm. 13-38. Beverly Hill, CA: Sage.
MacIntyre, P. D., & Gardner, R. C. 1989. Anxiety and Second‐Language Learning: Toward a Theoretical Clarification*. Language learning 39(2): 251-275.
Matsuda, S., & Gobel, P. 2004. Anxiety and Predictors of Performance in the Foreign Language Classroom. System, 32(1): 21-36.
May, R. 1977. The Meaning of Anxiety. New York: Washington Square Press.
Mitchell, R., & Myles, F. 2004. Second Language Learning Theories (3rd ed.). Oxford: Oxford University Press.
Mohd. Zin, Z. & Rafik-Galea, S. 2010. Anxiety and Academic Reading Performance among Malay ESL Learners. Journal of Pan-Pacific Association of Applied Linguistics 14(2): 41-58.
Morris, L. W., Davis, M. A., & Hutchings, C. H. 1981. Cognitive and Emotional Components of Anxiety: Literature Review and a Revised Worry–Emotionality Scale. Journal of Educational Psychology 73(4): 541-555.
Mubayyad, Ma'mun. 1995. Al-Mursyid fi al-Amrad al-Nafsiyyah wa Idtirabat al-Suluk. Beirut: al-Maktab al-Islami.
O'Toole, J. E. 1993. Foreign Language Anxiety. Language Association Bulletin, 44: 3-5.
Oxford, R. L. 1999. Anxiety and the Language Learner: New Insights. Dlm. Jane Arnold (pnyt.). Affect in language learning, hlm. 58-67. Cambridge: Cambridge University Press.
Rasyad cAli cAbd al-cAziz Musa. 2001. Asasiyat al-Sihhah al-Nafsiyyah wa al-cIlaj al-Nafsiyy. Kaherah: Mu'assasah al-Mukhtar.
Salasiah Bt. Hanin Hamjah. 2011. Kaedah Mengatasi Kebimbangan dalam Kaunseling: Analisis Dari Perspektif Al-Ghazali. Jurnal Hadhari 3(1): 41-57.
Scovel, T. 1978. The Effect of Affect on Foreign Language Learning: A Review of The Anxiety Research. Language Learning 28: 129-142.
Spielberger, C. D. 1983. Manual for the State-Trait Anxiety Inventory. Palo Alto, CA: Consulting Psychologist Press.
Saito, Y., & Samimy, K. K. 1996. Foreign Language Anxiety and Language Performance: A study of Learner Anxiety in Beginning, Intermediate, and Advanced‐Level College Students of Japanese. Foreign Language Annals 29(2): 239-249.
Samimy, K. K., & Tabuse, M. 1992. Affective Variables and a Less Commonly Taught Language: A Study in Beginning Japanese Classes*. Language learning 42(3): 377-398.
Tallon, M. 2009. Foreign Language Anxiety and Heritage Students Of Spanish: A Quantitative Study. Foreign Language Annals 42(1): 112-137.
Wan Zarina Wan Zakaria, Azizah Rajab, Norfazila Sayuti & Nur Al-Huda Hashim. 2007. Kajian tahap keresahan di kalangan pelajar B3 terhadap mata pelajaran B3. Universiti Teknologi Malaysia: Pusat Pengurusan Penyelidikan.
Wehr, H. 1980. Mucjam al-Lughah al-cArabiyah al-Mucasirah (A Dictionary of Modern Written Arabic. Edisi ke-3. Beirut: Maktabah Lubnan.
Wilson, J. T. S. 2006. Anxiety in Learning English as a Foreign Language: Its Associations with Student Variables, with Overall Proficiency, and with Performance on an Oral Test. Tesis Doctoral, Editorial de la Universidad de Granada.
Young, D. J. 1992. Language Anxiety from the Foreign Language Specialist's Perspective: Interviews with Krashen, Omaggio Hadley, Terrell, and Rardin.Foreign Language Annals 25(2): 157-172.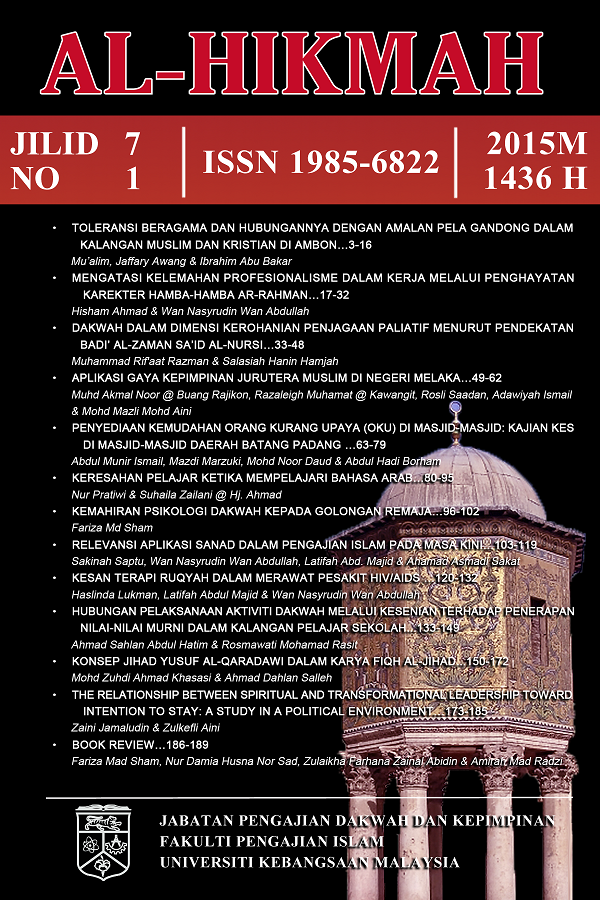 How to Cite
-, N. P., & Zailani @ Hj. Ahmad, S. (2015). KERESAHAN PELAJAR KETIKA MEMPELAJARI BAHASA ARAB. Al-Hikmah, 7(1), 89-94. Retrieved from https://spaj.ukm.my/jalhikmah/index.php/jalhikmah/article/view/122
Authors retain copyright and grant the journal right of first publication with the work simultaneously licensed under a Creative Commons Attribution License that allows others to share the work with an acknowledgement of the work's authorship and initial publication in this journal.