CHRISTIAN NEO-ORTHODOXY APPROACH TO RECONSTRUCTION OF RELIGIOUS THOUGHT ON SELECTED THEOLOGICAL ISSUES: AN ISLAMIC ANALYSIS
Adibah Abdul Rahim

International Islamic University Malaysia (IIUM)
Keywords:
Christian Neo-Orthodoxy, Theology, Religions,
Abstract
Christian neo-orthodoxy can be placed as a middle position between traditional orthodoxy and liberalism. Like Muslim reformists' approach of reform, which attempted to reconstruct Islamic religious thought in the light of modern science and knowledge, Christian neo-orthodoxy insisted that Christianity itself needs continually to be rethought and that theology must engage seriously with the modern world in its quest for understanding. Therefore, both Islamic approach of reform and Christian neo-orthodoxy shared a similar objective, but both present different views and methods of interpreting scriptures and traditions in the light of new scientific knowledge. This paper highlights selected theological issues advocated by Christian neo-orthodoxy for reconstruction of religious thought. At the same time, it provides an analysis on those issues from Islamic perspectives. It was found that despite of claiming themselves as belong to mediating position, Christian neo-orthodoxy seemed to ignore their scriptures and depended much on human interpretations. This is obviously contradicted to an Islamic approach which upholds that the fundamental sources of the Qur'an and Sunnah should always be referred to as primary references despite our reliance on modern knowledge and rational inquiries. Since the study is theoretical in nature, it is confined to library research. It is hoped that this study will provide a proper understanding on the response of religious thought from the perspective of two different religions, Christianity and Islam.
References
Alister E. McGrath. 1994. Christian Theology: An Introduction, Cambridge: Blackwell Publishers.
C. Stephen Evans. 1998. Faith Beyond Reason, Edinburgh: Edinburgh University Press.
H.J. Blackham, 1991, Six Existentialist Thinkers, London: New York: Routledge Publication.
James C. Livingston, Modern Christian Thought: From the Enlightenment to Vatican 11, New York: Mac Millan Publishing, 1971.
Karl Barth, 1933, The Epistle to the Romans, Hoskyns (trans), London: Oxford University Press.
Karl Barth, 1939, The Knowledge of God and the Science of God according to the Teachings of the Reformation, J.L.M. Haire and Ian Henderson (trans), New York: Charles Scribner's Sons.
_________, 1954, Against the Stream, New York: Philosophical Library.
_________, Church Dogmatics.
_________, Evangelical Theology: An Introduction, New York: Philosophical Library, 1963.
________, Word of God and Word of Man.
L. Nathan Oaklander, 1992, Existentialist Philosophy: An Introduction, New Jersey: Englewood Cliffs.
Micheal Peterson, William Hasker, Bruce Reichenback and David Basinger (editors), 1996, Philosophy of Religion: Selected Readings, Oxford: Oxford University Press.
Reinhold Niebuhr, 1964, The Nature and Destiny of Man, New York: Charles Scribner's Sons.
___________, 1956, An Interpretation of Christian Ethics, New York: Meridian.
Ronnie Little Jhon (editor), 1985, Exploring Christian Theology, Boston: University Press of America.
William Mc Neil and Karen S. Feldman, 1998, Continental Philosophy: An Anthology, Oxford: Blackwell Publishers.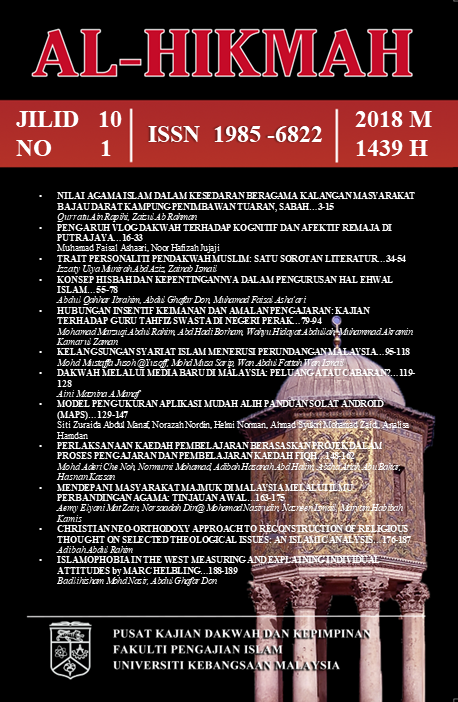 How to Cite
Abdul Rahim, A. (2018). CHRISTIAN NEO-ORTHODOXY APPROACH TO RECONSTRUCTION OF RELIGIOUS THOUGHT ON SELECTED THEOLOGICAL ISSUES: AN ISLAMIC ANALYSIS. Al-Hikmah, 10(1), 176-187. Retrieved from https://spaj.ukm.my/jalhikmah/index.php/jalhikmah/article/view/251
Copyright (c) 2018 Al-Hikmah
This work is licensed under a Creative Commons Attribution-NonCommercial-NoDerivatives 4.0 International License.
Authors retain copyright and grant the journal right of first publication with the work simultaneously licensed under a Creative Commons Attribution License that allows others to share the work with an acknowledgement of the work's authorship and initial publication in this journal.