KELANGSUNGAN SYARIAT ISLAM MENERUSI PERUNDANGAN MALAYSIA
Mohd Mustaffa Jusoh @Yusoff

Kolej Universiti Islam Antarabangsa Selangor

Mohd Musa Sarip

Kolej Universiti Islam Antarabangsa Selangor

Wan Abdul Fattah Wan Ismail

Universiti Sains Islam Malaysia
Keywords:
Syariah, Law, Civil, Malaysia
Abstract
The Sustainability of Islamic Laws Through Malaysian Legislation
Islamic law and legislation are inseparable. This writing is aimed to see the justification of a legal system based on Islamic law that is a samawi revealation which brings the concept of educating and not merely hurt and punishment. The question involving the provision of civil legislation based on the Federal Constitution and the states enactment as the element of the syariah court legislation in Malaysia, thus it is not aimed at raising the level of legal and judicial discussions, but as an instrument method that supports a more socio-social discussion. The need for the strengthening of Islamic law through the diplomacy process is seen as increasingly in line with the development of the lives and benefits of Muslims in Malaysia.
References
Abdul Qadir 'Audah. (t.t) Al-Tasyri' Al-Jinaiy Al-Islami, muqorinan bi Al-Qanun Al-Wad'I. Beirut. Dar Al-Kitab Al-Ghazaly.
Abdul Rahman Abdullah (1997), Pemikiran Islam di Malaysia,Jakarta.
Abu Zahrah, Muhammad (1987), Ahkam A-Jarimah wa Al-'Uqubah fil Fiqh Al-Islami, Jordan, Maktabah Al-Mansour.)
Al-Buti, Dr. Sa'id Ramadhan (1982), Dhowabi Al-Maslahah fil Islam, Beirut, Muassasah Risalah.
Al-'Aalim, Yousuf Hameed (1992), Al-Maqasid Al-'Aammahlis Syari'ah Al-Islamiah.
Al-Mawardi. (1989M/1409H). Al-Ahkam As-Sultoniyyah, Beirut. Darul Fikr.
Al-Qudamah, Muwafaq Ad-Din Ibn Qudamah. (1997M/1417H). t.tp. Al-Mughni. Darul Alaam Al-Kutub.
Az-Zuhaily, Dr. Wehbah Moustafa. (1985M/1405H). Fiqhul Islam wa Adillatuhu. Damsyik, Syria. Darul Fikr.
Ibnu Taimiyah, Taqiyuddin Ahmad. (2001), Makariimul Akhlaq. Beirut, Al-Maktabah Al-'Ashriyah.
Kamal Hali. (Nov. 1988). The Shari'ah Court and Art. 121(A) of the Federal Contitiution, Jurnal Perundangan jilid 1 bil. 1 ABIM. 10-4, Jalan 14/22 46100 Petaling Jaya, Selangor Darul Ehsan.
M. Suffian Hashim, The Relationship Between Islam and the State in Malaya, Singapore Malaysian Research Institute Ltd, jld 1 no. 1.
Othman Hj. Ishak (1981), Fatwa dalam Perundangan Islam, Penerbit Fajar Bakti, Kuala Lumpur
Rahimin Affandi Abdul Rahim (1999), Islamic Legal Reform In The Administration, Universiti Birmingham, London.
Tun Mohd Salleh Abbas 1986). The constitiution of Malaysia; further perspective and development. Singapore Oxford University Press.
Zulkifli Hasan. (2007). Isu Undang-Undang Jenayah Islam Di Malaysia Dan Sejauh Manakah Perlaksanaannya. Universiti Sains Islam Malaysia. Nilai, Negeri Sembilan.
Tun Mohd Salleh Abbas 1986), The constitiution of Malaysia; further perspective and development, Singapore Oxford University Press.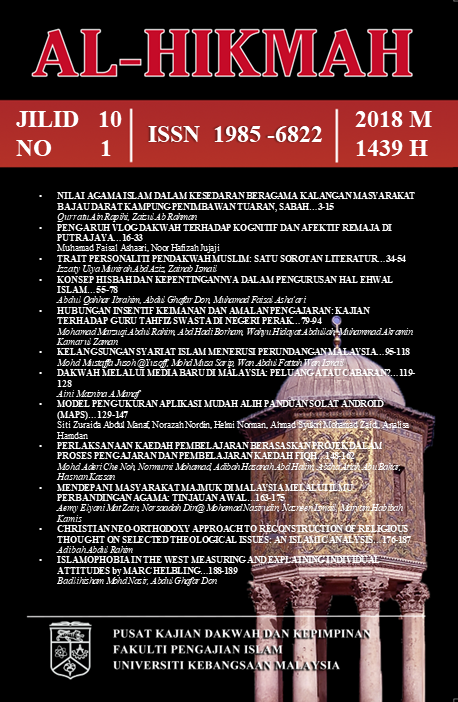 How to Cite
Jusoh @Yusoff, M. M., Sarip, M. M., & Wan Ismail, W. A. F. (2018). KELANGSUNGAN SYARIAT ISLAM MENERUSI PERUNDANGAN MALAYSIA. Al-Hikmah, 10(1), 95-118. Retrieved from https://spaj.ukm.my/jalhikmah/index.php/jalhikmah/article/view/293
Copyright (c) 2018 Al-Hikmah
This work is licensed under a Creative Commons Attribution-NonCommercial-NoDerivatives 4.0 International License.
Authors retain copyright and grant the journal right of first publication with the work simultaneously licensed under a Creative Commons Attribution License that allows others to share the work with an acknowledgement of the work's authorship and initial publication in this journal.