NILAI AGAMA ISLAM DALAM KESEDARAN BERAGAMA KALANGAN MASYARAKAT BAJAU DARAT KAMPUNG PENIMBAWAN TUARAN, SABAH
Qurratu Ain Rapihi

Universiti Kebangsaan Malaysia

Zaizul Ab Rahman

Universiti Kebangsaan Malaysia
Keywords:
Value of Religion, Religious Consciousness, Kampung Penimbawan Tuaran, Bajau Darat, Sabah
Abstract
The Value of Islamic Religious Awareness Among Bajau Darat at Kampung Penimbawan Tuaran, Sabah
Generally, the Bajau divided into two Sea Bajau living in the eastern part of Sabah Bajau Darat also known as just stay in the western part of Sabah. This difference is based on their geographical placement of the state. Dialect speech Bajau Bajau sea and land is also different. Their main activity is farming, breeding and fishing. In terms of religion, values awareness in society of the Muslim Bajau have preceded other indigenous tribes in the interior of Sabah, who was yet to embrace. However, awareness values of the Islamic religion in practice among the Bajau community is different and vary. This paper aims to identify the values of religion in religious awareness among the Bajau Sabah at Kampung Penimbawan Tuaran Sabah and their role as agents of the spread of Islam in the state. The design of this paper uses descriptive and regration quantitative method based on analysis of the findings of previous studies related to land in Sabah Bajau community. The results showed that the values of Islam in the religious consciousness Bajau Darat and their role as agents of the spread of Islam is still at a low level which shown the value of religion among regration ibadah and akhlak are R= 0.686 . The conclusion of the descriptive also showed that the frequency of ibadah at the range of moderate with 79% and the frequency of akhlak which both are the values of religious of Bajau at Kampung Penimbawan is low with cumulative percent 88.6%.
References
Al-Quran al-Karim.
Chua, Yan Piaw.2006. Kaedah dan Statistik Penyelidikan. Buku 1. Kuala Lumpur: McGraw-Hill.
Gusni Saat. 2008. Suku Etnik Bajau (Urbanisasi, Perubahan dan Pembangunan). Kuala Lumpur: Dewan Bahasa dan Pustaka.
Haji Jamawi bin Haji Ajim. 2014. Temubual. Penimbawan: t.th.
Haji Jaukal bin Badar. 2014. Catatan Haji Jaukal bin Badar. Kampung Penimbawan: t.th
Jones. L.W. 1996. The Population of Borneo: A Study of the Peoples of Sarawak, Sabah dan Brunei. London: Athlone Press.
Nimmo, H. Arlo. 1994. The Songs of Salanda and Other Stories of Sulu. Manila: Ateneo De Manila University Press.
Nurcholish Madjid, Muhammad Imadduddin, Abdulrahim. Bassam Tibi, Frans Magni Suseno, Tarmizi Taher, Olaf Schumann, Joseph Van Ess., Adnan Buyung Nasution, Bahtiar Effendi, Samuel P. Huntington. 1996. Agama dan Dialog Antara Peradaban. Jakarta: Penerbit Paramadina.
Panel Penulis. 2014. Adat Resam dan Pantang Larang Suku Kaum di Sabah. Selangor: Perpustakaan Negara Malaysia.
Saidatul Nornis Hj. Mahali. 2013. Nilai dan Norma Masyarakat di Sabah. Kota Kinabalu: Penerbit Universiti Malaysia Sabah.
Saidatul Nornis Hj. Mahali, Budi Ato Mohd.Tamring. 2011. Pluraliti Dalam Kearifan Lokal di Sabah. Kota Kinabalu: Penerbit Universiti Malaysia Sabah.
Saidatul Nornis Hj. Mahali, Mohd Sarim Hj Mustajab, Suraya Sintang. 2007. Pluraliti Etnik dan Budaya di Sabah. Kota Kinabalu: Penerbit Universiti Malaysia Sabah.
Sather, Claffoerd A. 1976. Kinship and Contiguity: Variation in Social Alignments Among the Semporna Bajau Laut dlm. Appell, G.N. (ed) The Societies of Borneo: Explorations in the Theory of Cognatic Sosial Structure. New York: American Antropological Association.
Sayid Qutb. 1978. Masyarakat Islam. Terj. H.A Muthi Nurdin S.H. Bandung: Yayasan At-Taufiq- Pt Al Ma'arif.
Zainal Kling. 1997. Masyarakat Melayu: Antara Tradisi dan Perubahan. Kuala Lumpur: Utusan Publications.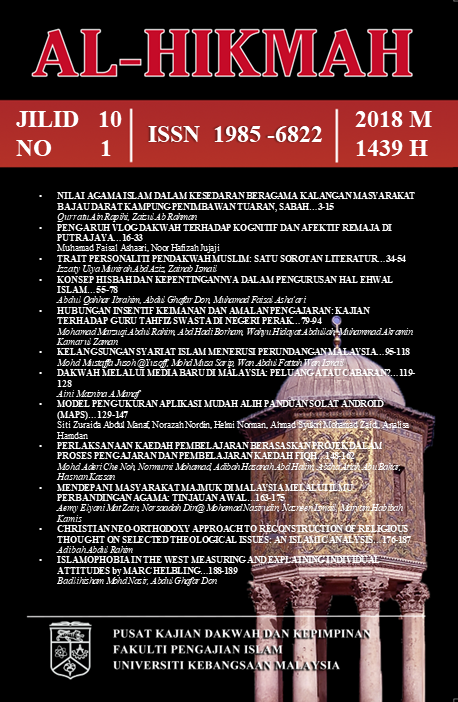 How to Cite
Rapihi, Q. A., & Ab Rahman, Z. (2018). NILAI AGAMA ISLAM DALAM KESEDARAN BERAGAMA KALANGAN MASYARAKAT BAJAU DARAT KAMPUNG PENIMBAWAN TUARAN, SABAH. Al-Hikmah, 10(1), 3-15. Retrieved from https://spaj.ukm.my/jalhikmah/index.php/jalhikmah/article/view/248
Copyright (c) 2018 Al-Hikmah
This work is licensed under a Creative Commons Attribution-NonCommercial-NoDerivatives 4.0 International License.
Authors retain copyright and grant the journal right of first publication with the work simultaneously licensed under a Creative Commons Attribution License that allows others to share the work with an acknowledgement of the work's authorship and initial publication in this journal.