PENDEKATAN HEUTAGOGI: PERSEPSI MURID TERHADAP PENTAKSIRAN RAKAN SEBAYA
Students' Perceptions of Peer Assessment in The Heutagogical Approach
Noor Muslieah Mustafa Kamal

Universiti Malaya

Zaharah Hussin

Lecturer, Universiti Malaya

Abdul Muhsien Sulaiman

Lecturer, Universiti Malaya
Keywords:
Akhlak, heutagogy, assessment, peer evaluation, Islamic studies
Abstract
In response to the challenges of 21st-century education, the country's educational pattern is now evolving. As a result, cutting-edge pedagogy, such as heutagogical approaches, is required to develop students' skills and competencies for lifelong learning. The heutagogical approach encourages student action and involvement in their teaching and learning process, including aspects of assessment, by allowing students to determine and manage their assessment of learning. As a result, this paper aims to identify the involvement of students in peer assessment of Islamic morality in secondary schools. This quantitative study used a survey design with 388 respondents who were randomly selected stratified from Form 4 students studying in national secondary schools in ten District Education Offices (PPD) in the state of Selangor. According to the study's findings, students have a low level of involvement in assessing Islamic morality toward peers. Overall, all moral constructs in evaluating Islamic morality are of high quality. The study's findings also revealed a significant difference between students' achievement grades in the subject of Islamic Education and the assessment of Islamic morality. As a result, this study can assist teachers in further improving the level of assessment of Islamic morality to peers in school as a mechanism to measure students' morale toward the construction of admirable morals. As a result, peer evaluation can be one of the alternative methods of assessment in schools.
References
Abdul Zubir Haji Abdul Ghani. 2007. Pelaksanaan pentaksiran berasaskan sekolah di kalangan guru tingkatan tiga. Tesis PhD. Fakulti Pendidikan, Universiti Malaya.
Ahmad Fauzi Mohd Ayub, Aida Suraya Md Yunus & Rosnaini Mahmud. 2018. Pengaruh Guru, Rakan Sebaya dan sokongan keluarga terhadap keterlibatan Matematik dalam kalangan murid Sekolah Menengah. Jurnal Pendidikan Sains Dan Matematik Malaysia 8 (1): 1-12.
Airasian, P. W. 2001. Classroom assessment: Concepts and applications. ERIC.
Aniza Ahmad dan Zamri Mahamod. 2016. Tahap kemahiran guru bahasa melayu sekolah menengah dalam melaksanakan pentaksiran berasaskan sekolah berdasarkan jantina, opsyen dan tempat mengajar. Jurnal Pendidikan Bahasa Melayu 5 (1): 18-29.
Akhbar Ibrahim & Siti Zaliha Reduan. 2002. Penilaian prestasi berasaskan sekolah: Pelaksanaan dan kesediaan guru. Kertas kerja Persidangan Kebangsaan Penilaian Kemajuan Berasaskan Sekolah, USM Pulau Pinang.
Ayachi, Z. 2017. Peer and teacher assessment in EFL writing compositions: The case of advanced English major students in Jendouba, Tunisia. The Reading Matrix: An International Online Journal 17 (1): 156-168.
Azhar Ahmad. 2006. Strategi Pembelajaran Pengaturan Kendiri Pendidikan Islam dan Penghayatan Akhlak Pelajar Sekolah Menengah di Sarawak. Tesis PhD. Universiti Kebangsaan Malaysia.
Black, P. & Wiliam, D. 1998. Assessment and classroom learning. Assessment in Education: Principles, Policy & Practice 5 (1): 7-74.
Hase, S. & Kenyon, C. 2000. From andragogy to heutagogy. Ultibase Articles 5: 1-10.
Blaschke, L. M. 2012. Heutagogy and lifelong learning: A review of heutagogical practice and self-determined learning [Review]. International Review of Research in Open and Distance Learning 13 (1): 56-71.
https://www.scopus.com/inward/record.uri?eid=2-s2.0-84856947263&partnerID=40&md5=fbb562d9d713a13ed6e72fe3f65a8412
Blaschke, L. M. 2016. Strategies for implementing self-determined learning (heutagogy) within education: A comparison of three institutions (Australia, South Africa, and Israel). Thesis Master. Carl von Ossietzky Universität Oldenburg.
Blaschke, L. M. & Hase, S. 2016. Heutagogy: A Holistic Framework for Creating Twenty-First-Century Self-determined Learners [Book Chapter]. Lecture Notes in Educational Technology. https://doi.org/10.1007/978-3-662-47724-3_2
Blaschke, L. M. & Hase, S. 2019. Heutagogy and digital media networks. Pacific Journal of Technology Enhanced Learning 1 (1): 1-14.
Boud, D. & Falchikov, N. 2005. Redesigning assessment for learning beyond higher education. Research and development in higher education 28 (special issue): 34-41.
Brown, A. L., Cocking, R. R. & Donovan, M. S. 2000. How people learn: Brain, mind, experience, and school. Expanded edition. USA: Joseph Henry Press.
Bryant, D. A. & Carless, D. R. 2010. Peer assessment in a test-dominated setting: empowering, boring or facilitating examination preparation? Educational Research for Policy and Practice 9 (1): 3-15.
Butler, D. L. & Winne, P. H. 1995. Feedback and self-regulated learning: A theoretical synthesis. Review of educational research 65 (3): 245-281.
Eberle, J. H. 2013. Lifelong learning. In, Hase, S. & Kenyon, C., Self-determined learning: Heutagogy in action. London: Bloomsbury: 145-157.
Gronlund, N. E. & Waugh, C. K. 2013. Assessment of Student Achievement, 8th Edition. Boston: Pearson. Hariatul Hafidzah Mahmad Khory, Mohd Nazri Abdul Rahman & Muhammad Azhar Zailani. 2021. Pengurusan pentaskiran bilik darjah mata pelajaran bahasa Arab berasaskan keperluan pembelajaran murid. JuPiDi: Jurnal Kepimpinan Pendidikan 8 (2): 41-57.
Harrison, K., Joe, O. h. & McNamara, G. 2015. Re-thinking assessment: self-and peer-assessment as drivers of self-direction in learning. Eurasian Journal of Educational Research 15 (60): 75-88.
Hasbullah Mat Daud, Ahmad Yussuf & Fakhrul Adabi Abdul Kadir. 2020. Pembentukan akhlak dan sahsiah pelajar melalui pembelajaran sosial menurut perspektif Islam. e-Bangi 17 (9): 75-89.
Hase, S. 2009. Heutagogy and e-learning in the workplace: Some challenges and opportunities. Impact: journal of applied research in workplace e-learning 1 (1): 43-52.
Hase, S. & Kenyon, C. 2007. Heutagogy: A Child of Complexity Theory. Complicity: An international journal of complexity and education, 4 (1): 111-118.
https://doi.org/10.29173/cmplct8766
Jimain Safar. 2012. Pembinaan Instrumen Pentaksiran Akhlak Berasaskan Rakan Sebaya Sekolah Menengah. Tesis PhD. Universiti Kebangsaan Malaysia.
Lee, T. A., Zulkufli Mahayuddin, Yuan, O. S., Mooi, O. Y. & Teng, N. L. 2021. Pengalaman pembimbin instruksional dan guru dalam proses bimbingan instruksional pentaksiran bilik darjah di sebuah sekolah rendah. Jurnal Penyelidikan Dedikasi 18(2): 60-73.
Li, H., Xiong, Y., Hunter, C. V., Guo, X. & Tywoniw, R. 2020. Does peer assessment promote student learning? A meta-analysis. Assessment & Evaluation in Higher Education 45 (2): 193-211.
Kementerian Pendidikan Malaysia. 2002b. Sukatan Pelajaran Pendidikan Islam KBSM.
Marzni Mohamed Mokhtar, Roselan Baki & Fadzilah Abd Rahman. 2016. Amalan Pentaksiran Guru dalam Pengajaran Kemahiran Menulis Karangan argumentatif: Satu Kajian Kes terhadap Guru Sekolah Menengah. Jurnal Pendidikan Bahasa Melayu 3 (2): 1-17.
Mohamad Azhar Mat Ali & Shahrir Jamaluddin. 2007. Amalan pentaksiran untuk pembelajaran di sekolah menengah. Jurnal Pendidikan 27 (1): 19-39.
Mohd Huzaimi Abdul Manap, Zolkepili Haron & Norasmah Othman. 2020. Penilaian Pelaksanaan Program Pentaksiran Alternatif Sekolah Rendah (PASR) di Sekolah Rendah Pendidikan Khas Integrasi (School Alternative Assessment Programme (PASR) Implementation Evaluation In Special Education Integrated School). Jurnal Pendidikan Malaysia 45 (1SI): 9-16.
Nicol, D. J. & Macfarlane‐Dick, D. 2006. Formative assessment and self‐regulated learning: A model and seven principles of good feedback practice. Studies in Higher Education 31 (2): 199-218.
Noor Muslieah Mustafa Kamal. 2018. Persepsi akhlak Islamiah oleh rakan sebaya. Tesis Sarjana. Universiti Malaya.
Sanchez, C. E., Atkinson, K. M., Koenka, A. C., Moshontz, H. & Cooper, H. 2017. Self-grading and peer-grading for formative and summative assessments in 3rd through 12th grade classrooms: A meta-analysis. Journal of Educational Psychology 109 (8): 1049.
Sebba, J., Crick, R. D., Yu, G., Lawson, H., Harlen, W. & Durant, K. 2008. Systematic review of research evidence of the impact on students in secondary schools of self and peer assessment. Technical Report.
Spiller, D. 2012. Assessment matters: Self-assessment and peer assessment. The University of Waikato.
Sumarsono. 2020. The paradigms of heutagogy and cybergogy in the transdisciplinary perspective. Jurnal Pendidikan dan Pengajaran 52(3): 172-182.
Tschannen‐Moran, M. & Gareis, C. R. 2004. Principals' sense of efficacy: Assessing a promising construct. Journal of Educational administration 42 (5): 573-585.
Tu, K. M. & Ravindran, N. 2020. Getting under the skin: Maternal social coaching and adolescent peer adjustment. Journal of Applied Developmental Psychology 66: 101091.
Van den Berg, B. A. M., Admiraal, W. F. & Pilot, A. 2006. Designing student peer assessment in higher education: Analysis of written and oral peer feedback. Teaching in Higher Education 11 (2): 135-147.
Yuslaini Yunus & Kamarul Shukri Mat Teh. 2015. Pentaksiran Pembelajaran dan Implikasi. Minda Pendidik 3: 29-38.
Zakaria Stapa, Ahmad Munawar Ismail & Noranizah Yusuf. 2012. Faktor persekitaran sosial dan hubungannya dengan pembentukan jati diri. Jurnal Hadhari: An International Journal (Special edition): 155-172.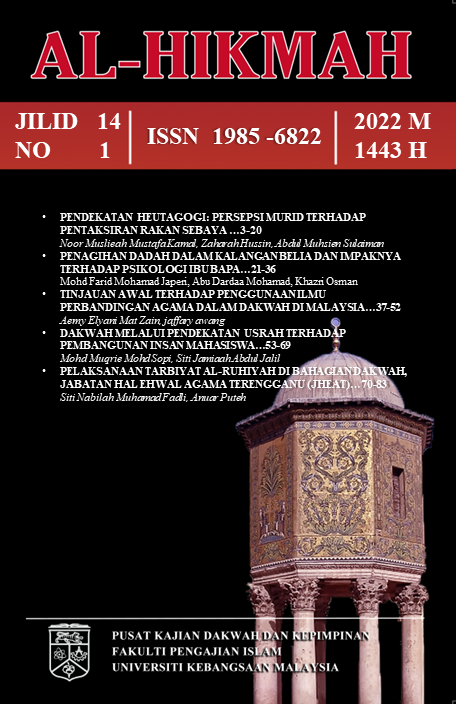 How to Cite
Mustafa Kamal, N. M., Hussin, Z., & Sulaiman, A. M. (2022). PENDEKATAN HEUTAGOGI: PERSEPSI MURID TERHADAP PENTAKSIRAN RAKAN SEBAYA. Al-Hikmah, 14(1), 3-20. Retrieved from https://spaj.ukm.my/jalhikmah/index.php/jalhikmah/article/view/468
Copyright (c) 2022 Al-Hikmah
This work is licensed under a Creative Commons Attribution-NonCommercial-NoDerivatives 4.0 International License.
Authors retain copyright and grant the journal right of first publication with the work simultaneously licensed under a Creative Commons Attribution License that allows others to share the work with an acknowledgement of the work's authorship and initial publication in this journal.