ANALISIS KANDUNGAN TERHADAP HASHTAG INSTAGRAM NGO ISLAM MALAYSIA DALAM MENGHADAPI COVID-19
Muhamad Faisal Ashaari

Pusat Kajian Dakwah & Kepimpinan, Fakulti Pengajian Islam, Universiti Kebangsaan Malaysia

Noor Hidayah Kassim

Pusat Kajian Dakwah & Kepimpinan, Fakulti Pengajian Islam, Universiti Kebangsaan Malaysia
Keywords:
Covid19, Malaysia, tragedy, NGO Malaysia, hashtag, Instagram
Abstract
NGO Islam Malaysia telah mengambil bahagian dalam usaha mengumpulkan dana, memberi bantuan dan menggalakkan kesedaran masyarakat supaya mengambil langkah tertentu untuk menghadapi pandemik ini. Instagram merupakan salah satu medium yang digunakan oleh NGO ini untuk menampakkan usaha mereka dalam menangani pandemik ini. Hashtag dijadikan tool untuk menaikkan posting di Instagram dalam kempen menangani COVID-19. Objektif artikel ini ialah untuk menganalisis pola penggunaan hashtag di Instagram NGO Islam di Malaysia dalam menangani COVID-19 khususnya dari aspek pemilihan frasa hashtag dan kebolehlihatan. Sebanyak 15 NGO Islam di Malaysia yang aktif menggunakan Instagram telah dipilih dalam kajian ini. Posting NGO di Instagram telah dipilih dari bulan April dan Mei 2020 iaitu pada ketika berhadapan PKP. Kajian mendapati bahawa NGO Islam menggunakan hashtag dalam melaporkan berita tetapi belum cukup kuat untuk menggerakkan masyarakat. Penggunaan hashtag dalam kalangan NGO tidak selaras dan senada untuk membentuk kesatuan tindakan dalam masyarakat.
References
Ain Umaira Md Shah, Syafiqah Nur Azrie Safri, Rathedevi Thevadas, Nor Kamariah Noordin, Azmawani Abd Rahman, Zamberi Sekawi, Aini Ideris, Mohamed Thariq Hameed Sultan. 2020. COVID-19 outbreak in Malaysia: Actions taken by the Malaysian government. International Journal of Infectious Diseases 97: 108–116.
Aleksandra Laucuka. 2018. Communicative functions of hashtags. Economics And Culture 15 (1): 56-62.
Abd Samat, A., Abdul Rashid, A., Mohd Yunus, N., Salim, A., & Musa, H. 2022. A Malaysian medical non-governmental organization's (NGO) experience in the emergency response for COVID-19, using the whole-of-society collaborative concept. Disaster Medicine and Public Health Preparedness 16(6): 2665-2668. doi:10.1017/dmp.2021.106
Bahareh Ahmadinejad & Hadi Najafi Asli. 2017. e-Business through social media: A quantitative survey (Case study: Instagram). International Journal of Management, Accounting and Economics, 4(1): 80-99.
Bonilla, Y., & Rosa, J. 2015. # Ferguson: Digital protest, hashtag ethnography, and the racial politics of social media in the United States. American Ethnologist 42(1): 4-17.
Demirhan, K. 2014. Social Media Effects on the Gezi Park Movement in Turkey: Politics Under Hashtags. In: Pătruţ, B., Pătruţ, M. (eds) Social Media in Politics. Public Administration and Information Technology, 13: 281-314. Springer, Cham. https://doi.org/10.1007/978-3-319-04666-2_16
Fu, S., Li, H., Liu, Y., Pirkkalainen, H., & Salo, M. 2020. Social media overload, exhaustion, and use discontinuance: Examining the effects of information overload, system feature overload, and social overload. Information Processing & Management 57(6): 102307.
Khalid, N. L., Jayasainan, S. Y., & Hassim, N. 2018. Social media influencers-shaping consumption culture among Malaysian youth. In SHS Web of Conferences 53: 02008. EDP Sciences.
Kumar, N., Qiu, L. & Kumar, S. 2022. A hashtag is worth a thousand words: an empirical investigation of social media strategies in trademarking hashtags. Information Systems Research 33(4): 1119-1516.
Lucibello, K. M., Vani, M. F., Koulanova, A., deJonge, M., Ashdown-Franks, G., & Sabiston, C. M. 2021. #quarantine15: A content analysis of Instagram posts during COVID-19. Body Image 38: 148-156.
Muhamad Faisal Ashaari, Nor Faizah Ismail, Rosmawati Mohamad Rasit. 2019. Reaksi netizen muda terhadap kebanjiran maklumat di alam maya. Jurnal Komunikasi 35(3): 390-406.
Pereira Caldeira, A. S. 2021. "It's Not Just Instagram Models": Exploring the gendered political potential of young women's Instagram use. Media and Communication 9(2): 5-15.
Purba, K. R., Asirvatham, D., & Murugesan, R. K. 2020. Instagram post popularity trend analysis and prediction using hashtag, image assessment, and user history features. International Arab Journal Information Technology 18(1): 85-94.
Rauschnabel, P. A., Sheldon, P., & Herzfeldt, E. 2019. What motivates users to hashtag on social media? Psychology & Marketing 36(5): 473-488.
Serina Rahman. 2020. Overcoming the odds and filling the gaps: Malaysian civil society responses to COVID-19. Perspective Issue 2020 (44).
Poell, T. 2014. Social media and the transformation of activist communication: Exploring the social media ecology of the 2010 Toronto G20 protests. Information, Communication & Society 17(6): 716-731.
Yang, A., & Kent, M. 2014. Social media and organizational visibility: A sample of fortune 500 corporations. Public Relations Review 40(3): 562–564.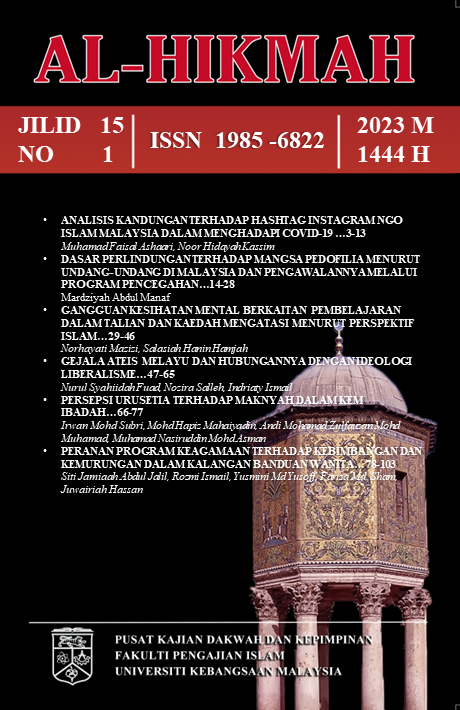 How to Cite
Ashaari, M. F., & Kassim, N. H. (2023). ANALISIS KANDUNGAN TERHADAP HASHTAG INSTAGRAM NGO ISLAM MALAYSIA DALAM MENGHADAPI COVID-19. Al-Hikmah, 15(1), 3-13. Retrieved from https://spaj.ukm.my/jalhikmah/index.php/jalhikmah/article/view/440
Copyright (c) 2023 Al-Hikmah
This work is licensed under a Creative Commons Attribution-NonCommercial-NoDerivatives 4.0 International License.
Authors retain copyright and grant the journal right of first publication with the work simultaneously licensed under a Creative Commons Attribution License that allows others to share the work with an acknowledgement of the work's authorship and initial publication in this journal.