THE ROLE OF THE EXEMPLARY FAMILY IN THE FORMATION OF A HAPPY FAMILY ACCORDING TO ISLAM
Adawiyah Ismail

Universiti Kebangsaan Malaysia

Rosma Aisyah Abd. Malek

Jawiah Dakir

Siti Rugayah Tibek

Noor Aziah Mohd. Awal

Fariza Md.Sham

Salasiah Hanin Hamjah

Rosmawati Mohamad Rasit
Abstract
The rise in family breakups are caused by the lack of knowledge about the role of the members in the family institution and about the guidance on family life through the exemplary family according to Islam. Hence, this study aims to identify the role of the exemplary family members in the formation of a happy family. The main method used in obtaining data in this paperwork is content analysis. The study has found that the understanding about the role of the mother, father as well as their children is very crucial nowadays due to the different challenges compared to the previous years. Exemplary family members who carry out their roles are able to form a happy family. Therefore, each family member should be knowledgeable about the exemplary family and the ways in forming a happy family based on the Quran and Sunnah. The implication is that an exemplary family which succeeds in creating a happy family is capable of enjoying life well and peacefully, setting the example to the general public and reducing unhealthy and undesirable activities in the society.
Keywords: family, exemplary, happy
References
Borang Anugerah Keluarga Mithali Yayasan Dakwah Islamiah Malaysia (YADIM). 2014.
Ibnu Manzur. Kamus Lisanul Arab. 1997.
Kamus Miftah. 2010. Al-Azhar Media. Negeri Sembilan.
Jamiah Manap, Arena Che Kassim, Mohammad Rezal Hamzah & Fazilah Idris. 2013. Parenting Role Model: The Professional Virtues Of Malaysian Exemplary Mother (Ibu Mithali). Social Sciences & Humanities. Pertanika J. Soc. Sci & Hum. 21 (S): hlm 177-192
Jamiah Manap, Sidek Baba, Nik Suryani Ab. Rahman & Haniza Rais. 2013. Pendekatan Komunikasi Keibubapaan dalam Keluarga Ibu Mithali. Journal of Human Development and Communication. Vol. 2: hlm 73-87.
Jawiah Dakir. 1996. Asas Pembentukan Keluarga Menurut Perspektif Al-Qur'an dan Al-Sunnah. Islamiyyat 17: hlm 3-18.
Mahmood Zuhdi. 2008. Family Harmoni, Memupuk Keluarga Bahagia. Karya Bestari Sdn. Bhd. Selangor
Mohd Dahlan Hj. A. Malek & Ida Shafinaz Mohamed Kamil. 2014. Nilai Etika dan Akauntabiliti Seorang Bapa dalam Pemberdayaan Pengurusan Keluarga Melalui Aplikasi Psikologi. Seminar Kebangsaan Integriti Keluarga 2014.
Noor Azilawati Mohd. Sabda. 2007. Kesempurnaan Keluarga Islam. Associated Educational Distributors (M) Sdn. Bhd. Melaka
Roslan Mohamed & Siti Nur Shuhada Mohamad. 2013. Keluarga Muslim Menurut Imam Hassan Al-Banna. Hijjaz Recerds Publishing. Selangor
Saat Sulaiman. 2011. Tip Menjadi Ibu Bapa Mithali. PTS Millennia Sdn. Bhd. Selangor
Sidek Baba. 2010. Keluarga Sakinah. Alaf 21 Sdn. Bhd.
Siti Sujinah Sarnap. 2014. Ayah & Ibu Izinkan Aku Ke Syurga. Must Read Sdn. Bhd. Selangor.
Syahrin Jasah. 2000. Peranan Anak Terhadap Ibu Bapa. Darul Nu'man. Kuala Lumpur.
Zakaria Stapa, Ahmad Munawar Ismail & Noranizah Yusuf. 2012. Faktor Persekitaran Sosial Dan Hubungannya Dengan Pembentukan Jati Diri. Jurnal Hadhari Special Edition. hlm 155-172.
Wahbah al-Zuhayli. 2005. Akhlāq al-Muslim ᶜAlāqatuhu bi al-Mujtamaᶜ. Dar al-Fikr. Damascus.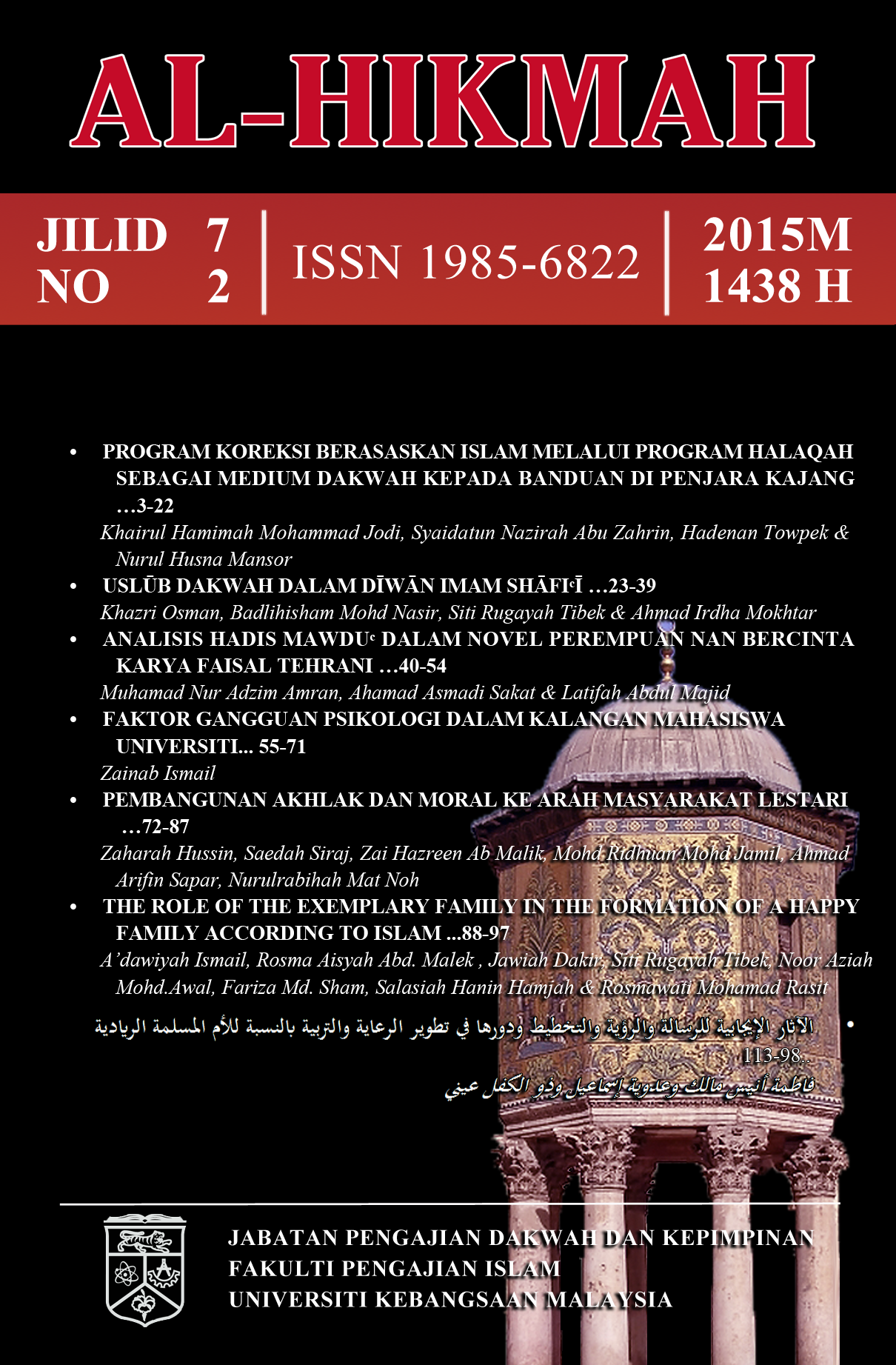 How to Cite
Ismail, A., Abd. Malek, R. A., Dakir, J., Tibek, S. R., Mohd. Awal, N. A., Md.Sham, F., Hamjah, S. H., & Mohamad Rasit, R. (2015). THE ROLE OF THE EXEMPLARY FAMILY IN THE FORMATION OF A HAPPY FAMILY ACCORDING TO ISLAM. Al-Hikmah, 7(2), 88-97. Retrieved from http://spaj.ukm.my/jalhikmah/index.php/jalhikmah/article/view/160
Authors retain copyright and grant the journal right of first publication with the work simultaneously licensed under a Creative Commons Attribution License that allows others to share the work with an acknowledgement of the work's authorship and initial publication in this journal.