ISLAMOPHOBIA IN THE WEST MEASURING AND EXPLAINING INDIVIDUAL ATTITUDES by MARC HELBLING
Badlihisham Mohd Nasir

Universiti Teknologi Malaysia

Abdul Ghafar Don

Universiti Kebangsaan Malaysia
Abstract
Islamophobia in The West Measuring and Explaining Individual Attitudes
By MARC HELBLING
Review by BADLIHISHAM MOHD NASIR ABDUL GAHFAR DON
When asked what comes to mind upon hearing the words "Islam" and "Muslim" many people answer with names like osama bin laden. Event such as 9/11 and other terrorist attacks, sources of terrorist violence such Palestinian suicide bombers and ideas and practices related to oppression, including jihad, veiling, Islamic law. And the term "Islamophobia" is often invoked to label such negative contations and associations and the word has enjoyed an extraordinary vogue over the past decade.
What is now popularly called ''Islamophobia'' has been much discussed and written about in the past ten years. But as Marc Helbling points out in the introduction to this edited volume, the current intense scholarly interest in anti-Muslim sentiment is belated and still insufficient for understanding such a complex phenomenon.
Since the late 1980s, growing migration from countries with a Muslim cultural background, and increasing Islamic fundamentalism related to terrorist attacks in Western Europe and the US, have created a new research field investigating the way states and ordinary citizens react to these new phenomena. However, whilst we already know much about how Islam finds its place in Western Europe and North America, and how states react to Muslim migration, we know surprisingly little about the attitudes of ordinary citizens towards Muslim migrants and Islam. Islamophobia has only recently started to be addressed by social scientists.
References
Islamophobia in the west Measuring and explaining individual attitudes.
Author: Marc Helbling.
Published by Routledge, New York 2012.
ISBN: 978-0-415-59444-8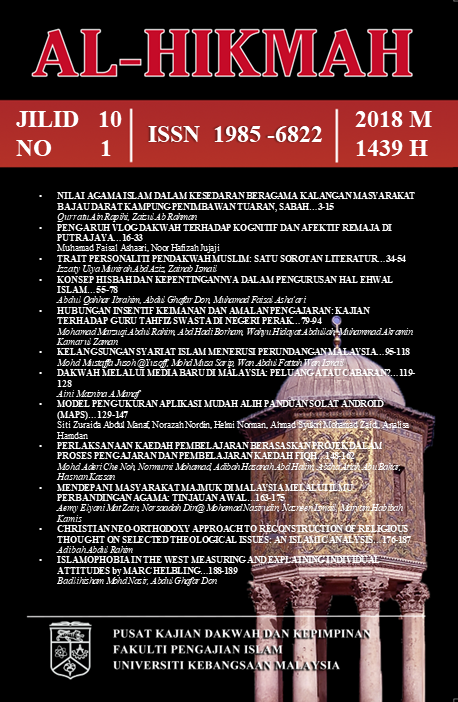 How to Cite
Mohd Nasir, B., & Don, A. G. (2018). ISLAMOPHOBIA IN THE WEST MEASURING AND EXPLAINING INDIVIDUAL ATTITUDES by MARC HELBLING. Al-Hikmah, 10(1), 188-189. Retrieved from https://spaj.ukm.my/jalhikmah/index.php/jalhikmah/article/view/327
Copyright (c) 2018 Al-Hikmah
This work is licensed under a Creative Commons Attribution-NonCommercial-NoDerivatives 4.0 International License.
Authors retain copyright and grant the journal right of first publication with the work simultaneously licensed under a Creative Commons Attribution License that allows others to share the work with an acknowledgement of the work's authorship and initial publication in this journal.